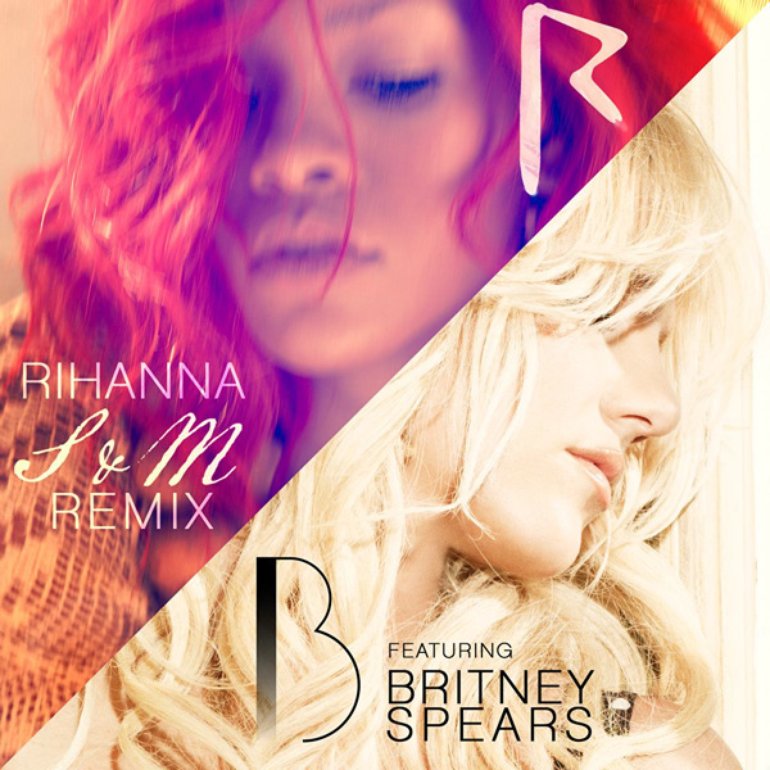 In The Ones of the '10s, I'm reviewing every single that hit #1 on the Billboard Hot 100 in the 2010s and working my way up into the present.
***
Rihanna- "S&M" (feat. Britney Spears)
HIT #1: April 30, 2011
STAYED AT #1: 1 week
Quick question: Does anybody here find S&M as hot or even sexy? Now I'm not judging your bedroom preferences but still, how does anyone find genuine fun and pleasure in using whips, chains, and other bondage type practices during sex. Then again, the 2010s were the decade when Fifty Shades of Grey became a phenomenon and right before that, a song literally titled S&M by two of the biggest pop stars of the moment managed to hit #1 for a week in 2011 so I don't know what to make of it.
"S&M" came from Ester Dean, the songwriter who had written several other Rihanna #1 singles including "Rude Boy" and "What's My Name?" as well as Katy Perry's #1 single "Firework." Dean started writing the song after thinking about the phrase "sticks and stones may break my bones" which followed with "chains and whips excite me." Right after, Dean began writing the entire song and recorded a demo. The song's already there. Initially, she intended it for Britney Spears but when Rihanna saw it decided it was for her though with the remix Dean would eventually get what she wanted.
"S&M" might just be one of the weirdest cases of the #1 songs I've covered so far. It's a Rihanna song with a remix credited to Britney Spears. But there's no music video for the remix, just the Rihanna original. And from what I remember hearing the song in sixth grade, it seemed like the Rihanna solo version was the version getting all the play. From what I could research, as the song was climbing up the charts, the Britney remix was released at the right time to capitalize on its popularity leading to Billboard counting in the remix the week "S&M" hit #1. Chart history is weird like that sometimes.
On her part, Rihanna has downplayed the sexual meaning of the lyrics using the old "the lyrics can be about anything" response, in this case, saying it's about her relationship with the media, "The song can be taken very literally, but it's actually a very metaphorical song. It's about the love-hate relationship with the media and how sometimes the pain is pleasurable. We feed off it – or I do. And it was a very personal message that I was trying to get across." She also discussed to Rolling Stone about her own interests in S&M type activities, "I like to take charge, but I love to be submissive … being submissive in the bedroom is really fun. You get to be a little lady, to have somebody be macho and in charge." Fair enough. But that still doesn't make "S&M" any less creepy and annoying.
The lyrics are still pretty much about how exciting it is to partake in S&M sexual activities no matter how you interpret it, "Feels so good being bad/Now the pain is for pleasure/Sticks and stones may break my bones/But chains and whips excite me/I like it, like it, come on, come on, come on." The media love-hate relationship interpretation Rihanna talks about certainly can apply especially when you have Britney Spears, an artist notoriously known for her rocky relationship with the media. But moving away from that, as its originally written the song is still about what it says it's about and it's just creepy to think about especially considering the violence Rihanna went through a couple of years prior.
Musically, "S&M" fits right in with the popular music zeitgeist of 2011 with a loud thumping electropop beat and a catchy chorus that's enough to stay in your head for a while. The same thing goes for the performances but that doesn't mean it's a good thing. The one good thing I can say is that Rihanna sings like she's putting her all into the song and the subject matter. But it isn't helped by the intro and chorus where Rihanna sings in this playground taunt melody which is enough for me to dislike it. Spears' performance like Kanye West's performance on the previous #1 "E.T." feels shoehorned in and with her below average singing doesn't add much of substance to an already bad song.
For Britney Spears, "S&M" would be her last #1 hit. For the rest of the decade, she continued releasing albums (2013's Britney Jean and 2016's Glory), singles, and collaborations to diminishing returns with her last Top 10 hit coming with 2012's feature on will.i.am's "Scream & Shout." ("Scream & Shout" peaked at #3. It's a 1.) While Spears would remain a big pop idol, for the most part, she started becoming more of a nostalgia act. Beginning in 2013, Spears launched a Las Vegas residency lasting through 2017 and doing other tours. While in the works for a second Las Vegas residency in 2019, Spears abruptly canceled the residency after her father suffered an almost fatal health emergency. She hasn't rescheduled the residency and from all accounts, it seems like she may be done with music altogether and focus on spending more time with her family.
Rihanna, on the other hand, continued her white-hot streak as one of the most consistent hit-making pop stars of the '10s. We'll see her back again in this column.
GRADE: 2/10
BONUS BEATS: Here's the bit from 2012's Pitch Perfect where the Bellas including Ester Dean herself sing "S&M" during a riff-off
(Anna Kendrick's highest-charting single, 2013's "Cups (Pitch Perfect's "When I'm Gone")," peaked at #6. It's a 6.