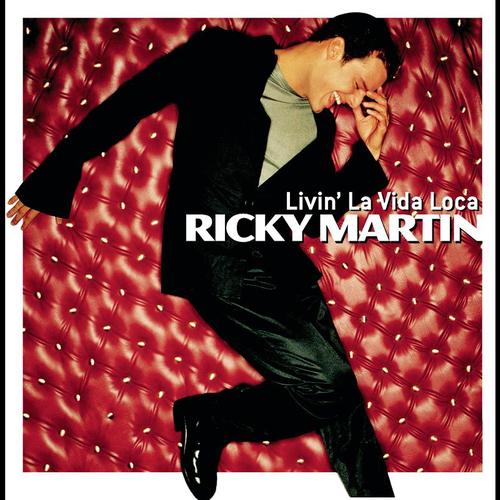 In Party Like It's 1999, I'm marking my birthday June 25th by reviewing every Billboard Hot 100 #1 hit from my birth year 1999 along with other notable hits from the year.
***
Ricky Martin- "Livin' La Vida Loca"

HIT #1: May 8, 1999
STAYED AT #1: 5 weeks
For much of its history, the Grammy Awards have been known as a major punchline: an award show where the music industry awards the most middle brow music possible over what we consider the best and most cutting-edge music nominated. The same goes for the performances where we usually see acts performing sedate ballad-heavy music. Not a very exciting show to say the least.
Once in a while, we get exceptions. Take Ricky Martin performing at the 41st Grammy Awards in 1999. Up to this point, Martin had spent much of his life in show business as a boy band child star, actor, and solo singer. Martin had become a major name in the Latin music market with two Spanish language albums under his belt but hadn't made much of a dent in the American mainstream. During the show, Martin performed an English language version of "La Copa de la Vida" or "The Cup of Life" which netted him worldwide fame after its use as the anthem for the 1998 World Cup. The performance had the audience giving Martin a standing ovation and watching the performance how could you not.
Martin's performance more than broke him through in America but broke much of Latin music into America. For much of pop-chart history, Latin music wasn't taken seriously by the industry usually treated as a novelty. After Martin, Latin music suddenly became cool in America with artists like Enrique Iglesias, Marc Anthony, Shakira, and Jennifer Lopez finding great crossover success combining Latin rhythms with American pop. It all kicked off with "Livin' La Vida Loca," Martin's sole #1 hit about a woman who makes him live the crazy life.
You could say Martin had been "Livin' La Vida Loca" his whole life. Born on Christmas Eve 1971, Enrique Martín Morales grew up in the Puerto Rican capital of San Juan. (The #1 song the week of Martin's birth: Melanie's "Brand New Key") As a kid, Martin was an altar boy in his local Catholic Church and appeared in several local commercials while singing at home and in local choirs. Martin got his big break at age 12 when he joined the Latin boy band Menudo who became a worldwide phenomenon for much of the '80s but didn't make much of a pop chart impact in America. (Menudo's highest-charting single, 1985's "Hold Me," peaked at #62.)
After five years, Martin left Menudo at age 17 to focus on his own career spending much of the early '90s in acting appearing in musicals including Les Miserables on Broadway, the Mexican soap opera To Reach A Star, and ABC's soap opera General Hospital. Starting in 1991, Martin began releasing his own music netting two moderately successful Spanish albums to his credit before 1995's A Medio Vivir broke him worldwide with its lead single "Maria" dominating worldwide charts. While making his follow-up, Vuelve, FIFA approached Martin to record the theme to the 1998 World Cup. Martin came up with "La Copa de la Vida" which was another worldwide hit and Martin's performance of the song at the World Cup final was watched by over a billion people across the world.
As big as Martin was getting around the world, he hadn't made much of an impact on the American charts. His albums and singles performed better on Billboard's Latin charts than they did on the mainstream charts. Spanish language songs and music are often a hard sell for American Top 40 radio with its English language barrier. But slowly Martin started getting towards crossover success. "Maria" broke him onto the Hot 100 peaking at #88 and "La Copa de la Vida" peaked at #60. (It did better a second time peaking at #45 after Martin broke through.) Vuelve became his first mainstream album-hit peaking at #40. It was only a matter of time before Martin would have his big breakthrough.
Columbia's label chief Tommy Mattola knew Martin had great crossover potential in the American market so when he was nominated for Best Latin Pop Album for Vuelve at the 1999 Grammys, Mattola pushed for Martin to perform. This wasn't easy as Mattola explained to Billboard last year, "There was tremendous resistance from the Grammys. They did not want an 'unknown' to perform, yet we he had already sold 10 million copies of Vuelve worldwide. To me, that was absolutely UNACCEPTABLE. We had enormous leverage at that time with almost every major superstar on our label. We heavily voiced our 'opinion and influence' and said: 'Ricky must have a performance on the Grammys!' No was not an option."
Mattola's instincts were proven right as Martin's performance led to him reaching a wider audience in America. This set the stage perfectly for his first English language self-titled album released in May 1999 going straight to #1 becoming 1999's third best-selling album. (Only the Backstreet Boys' Millennium and Britney Spears' …Baby One More Time sold more than Ricky Martin.)
"Livin' La Vida Loca" was written and produced by Desmond Child and Robi Rosa. Child had a big hit-making career spanning two decades writing big hits for rock artists including KISS, Joan Jett & The Blackhearts, Bon Jovi, Aerosmith, and Alice Cooper. Rosa had been Martin's bandmate in Menudo and was hired by Child to work on Martin's music. They both had written "La Copa de la Vida" and were approached by Martin's manager to come up with another "La Copa de la Vida" but this time with a Spanglish lyric. As Child explained to Fred Bronson in Billboard Book of No. 1 Hits, "I spent about three days working on that title. I ran it by Robi, who flipped over the title, so we wrote the song around it. I felt the title embodied Ricky's zest for life and the kind of risk-taking that living a very fast life all over the world with crazy nights in different capitals of the world entails."
The feeling of risk and craziness comes through a lot on "Livin' La Vida Loca" which is literally Spanish for "Livin' The Crazy Life." Lyrically, Martin describes a girl who sounds like the craziest girl you could ever meet. She's a girl with devil red lips and mocha skin who's into superstitions, new sensations, makes you dance naked in the rain, makes you order fancy French champagne, takes your heart and money, and takes away your pain as Martin describes "Like a bullet to your brain." (So this girl makes you feel like you're being shot in the head? I certainly hope you people don't interpret it like that.)
But really the lyrics don't matter here. "Livin' La Vida Loca" is more of a vamp than a song. It's all about that raucous energy of a groove. Child and Rosa put everything into the production: loud bright horns, surf-rock guitars, liquid synths. It was the first #1 song to be recorded using ProTools which Child noted gave the song more of a metallic and dry feel. Martin gives off an energetic vocal performance even doing lively shouting and ad-libs in between his singing. It sounds like everyone's having a blast. It's a song that really gets the party going and fits well with any fast-paced action movie.
Child said he and Rosa modeled the melody on the swing style of the Rat Pack after listening to a lot of Frank Sinatra, who had recently died, and modeled Martin's performance on Elvis giving the song a rock edge. These influences come through a lot as despite being widely remembered as a Latin pop song "Livin' La Vida Loca" doesn't belong to any one genre. It exists in a genre-free zone where Latin, rock, swing, and even ska music all intersect with each other. In other words, it's a very calculated pop crossover move but a very effective and fun one at that.
The music video for "Livin' La Vida Loca," directed by Wayne Isham, also illustrates the crazy nature of the song. In between shots of Martin and his band performing at a club, he's with Croatian model Nina Moric on a night on the town where she distracts him while driving leading another car to crash into a fire hydrant and dancing in the water raining down with a bunch of dancers. (Martin is gay but didn't come out publicly until 2010.) Much like the song, everyone in the video looks to be having a fun time.
Ricky Martin wouldn't get back to #1 but he managed to stick around a little while on the Hot 100. He got close to #1 later in 1999 with the Latin-esque power ballad "She's All I Ever Had" which peaked at #2. (It's a 6.) After that, Martin wouldn't get back into the Top 10 but got close a few times. Soon after, Martin went back to recording Spanish language albums which continued his success on the Latin charts. He wouldn't get back to the mainstream but continues to be a major star in the Latin community. He still acts and remains a big live draw.
Living the crazy life didn't sustain Ricky Martin on the charts for long but the impact it had on Latin music in the mainstream certainly did. We'll be seeing more Latin crossover stars in this column soon enough.
GRADE: 9/10
BONUS BEATS: Here's the 2000 Saturday Night Live Celebrity Jeopardy! skit where "Livin' La Vida Loca" plays as Chris Kattan's Ricky Martin gives the Video Daily Double:
BONUS BONUS BEATS: Here's Eddie Murphy and Antonio Banderas performing "Livin' La Vida Loca" during the end credits of 2004's Shrek 2:
(Eddie Murphy's highest-charting single, 1985's "Party All The Time," peaked at #2. It's a 5.)
BONUS BONUS BONUS BEATS: Here's the bit from a 2007 episode of The Sopranos where a marching band plays "Livin' La Vida Loca" during the scene where Blanca breaks up with AJ: